The best way to look at my life from an outside perspective is in sections, because I would not force any living soul to juggle all the sections like I am doing as it is cruel to all living beings.
School:
I am finishing up the first year of animation in the next four weeks. Many of the assignments I have been given are my final assignment of the year which feels like a huge joy because I have been trying to juggle personal stuff into my schedule and they either bump school related things down, or crash and burn which is not cool either.
I cannot post storyboarding as I really have nothing worth showing but am excited because I am going to throw a wicked illustrative style on them. I also have a 1500 word essay on a classic cartoon next week which I am having severe writers block over. I can bust it out in a good hour or and am not worried.
The first noteworthy piece of this batch is painting. We are required to do this assignment in 2 pieces, one I am well ahead on, the other well off schedule (blame a personal project) which makes me a saaad panda.
MASTER COPY
This is a recreate of an original trilogy concept art by Ralph McQuarrie.
Slowly but surly is my kitchen painting. I am excited to finish it, but have not the drive today. So I will dedicate later in the week to it, or maybe next weekend. I will be done and fabulous!
Next, notably is my Tank for Layout class. Though I absolutely hated the concept behind this assignment (essentially give a vehicle personality.. like Cars!) I am happy with the turn out. Can you get where I am going with it.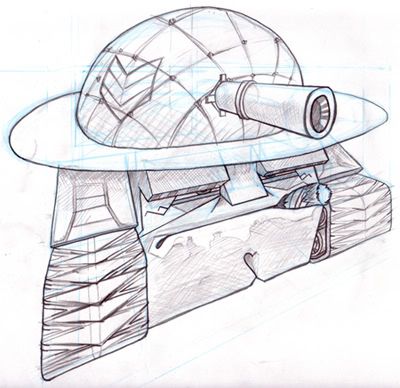 Forward March! Left, Left, Right, Left. Next on this apparent lengthy list, is character design. We had to come up with a head. rotate it and show 3 expressions and 2 antic poses. I am happy with it.
Sprak the Mandrill (a shiny dollar for someone to guess where the name is from!.. I lie. I can't afford guessing games) ... I went to the zoo, but currently my instructor has my art. So I will scan it when I get it back. There is one drawing I am fond of.


That concludes my weekly school progress, but what about the rest of my life?
Well, Emily, who is the next level of importance of my life is amazing! At least I think she is! Every day I grow fonder of this girl. She is a great person and an even more talented artist. She should be finding out about animation soon, I wish he luck but I really do not think she needs it. I was at her house on Saturday to take a phone interview, about an internship. I do not want to give away too much information yet but it is for 2 months in Colorado.
Here to be exactly. I am planning on going around the June and July time, which sucks to leave everyone for the summer, but I can gain so much from going and the thought of living connected to a studio and learning new and awesome things gets my bloody flowing fast through my Canadian veins!
The Tshirts is the next big thing. It has actually been a large time consumer. I first had to spread the word. Then sort through submitted design and assist in narrowing them down to the final 10, then they were voted on for the final 3 and low and behold:
the cream of the crop of 06/07. I apologies for the rush. But to anyone who checks my blog. TShirts are on sale Mon-Weds and check at the school for times. The first 2 are done by Sam Bradley and Mark Stanleigh, the third is a 3rd year who's name is passing me (sorry) top stuff though. I am proud of my work in getting this running and it is coming to a close and then I will have a handful (thank Jesus!) of extra time. So, you may remember the digital Ben Folds and the Digital scene painting. Neither have progressed much due to the level of my life and I may can them or have them be WIPs over the summer. But I have actually been steadily working on my website. All the html is done I am just cropping and thumb nailing my favourite images to throw up, but here is a teaser.
The inline frame is in the animation paper,as you can probably guess. I based it on my Flipbook page I posed earlier. On top of that I have been thinking about my friend Justin and mines graphic novel which I am going to toy around with this summer if Colorado allows me. I haven't played around ideas yet, but I have been meaning too, and have read the descriptions a few times. Enticing, that's what I have to say. Hopefully soon. I have also been working through the tour offices for about 8 hours a week, which is like one shift for any normal person, but any normal person isn't in ani-freakin-mation!
So that is my life currently. Doesn't read like alot, but I can assure you it sure feels it. Maybe I am just a baby. Probably it. Until my next rant/post remember one thing: only you can prevent forest fires.